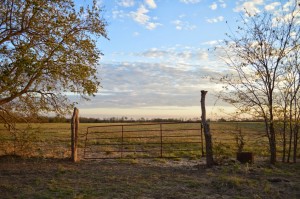 Sometimes the war finds you.  It didn't matter that my grandfather was a pacifist; he was drafted into the American army during World War Two.  He was the son of staunchly religious Texan farmers.  He saw that the draft was inevitable.  His parents could only see their dream where their sons took over the family acreage to form an agrarian dynasty.
When the draft came, Grandfather became a radioman in the infantry, fighting during the "Battle of the Bulge." During this campaign, he contracted hepatitis from contaminated drinking water and had to be temporarily hospitalized.  It was during this hospitalization that Grandfather's best friend was killed at the front.  You could say the disease saved his life.  Somehow, after Grandfather returned to action, he was able to survive the war whole.
Upon returning home to the States, he was able to secure his engineering degree by utilizing the GI Bill.  Serving in the war provided the means for Grandfather to escape the crushing gravity of the family farm and realize his own dream of a college education.  This degree lead to a job opportunity in west Texas where he ultimately met my grandmother.  It was love at first sight.  The rest is history…
"War is hell," William T. Sherman said.  I don't need to fight in one to know that.  My heart goes out to every soldier and their families.  I'm told my grandfather never spoke much of the war's atrocities–it was too emotional to verbalize.  Many people do not chose war and it's destruction, rather, they are engulfed by it and tasked with attempting to survive.   My soul cries for every non-combatant injured physically or psychologically by warfare.  I pray that I never have to experience anything resembling the horrors of the Holocaust, the death marches in Sudan, or the kidnappings in Africa.  It is often hard for me to see the good in war.  How can death be a positive thing?  While we still find our world at war, I am hopeful.  As we celebrate the 70th anniversary of the end of World War Two this year, I am easily reminded of the good it produced, not only for the entire world, but also my inconsequential family in Texas.  Life is paradoxical.  My grandfather, the reluctant soldier, had to go to war in order to find peace.
-Husky
*Husky Harlequin is the author of the new time travel novel Time's Alibi or The Quantum of Jazz Between the Sun and the Grave.  It's more than sci/fi; it's a political statement.  Grab a copy and have something to talk about at your next party.