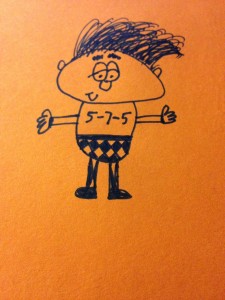 I was infected.  Haiku entered my system in 2006.  I'm told by professionals that my prognosis is hopeless…but not terminal.
It happened in Italy while I was traveling with my family.  I've long admired the artists, sculptors, novelists, musicians, and poets that have passed through there.  I craved the inspiration they've been able to harness.  I went prepared:  a Moleskine notebook, but I didn't know what to put in it.
Then the left side of my brain bit the right side on the lobe.  My analytical tendencies met my creative desire in the middle.  How about Haiku?  They are finite (analytical) yet require a keen cleverness to construct (creative).  It is a marriage that has spawned offspring.  Lately, I've been illustrating them with my "Husky Jr." character.  Look for them here, and let me know what you think.
-Husky
Why Haiku
They're short and concise.
Every single word matters.
Thoughts become pictures.
*Husky Harlequin is the author of the new time travel novel Time's Alibi or The Quantum of Jazz Between the Sun and the Grave.  It's more than sci/fi; it's a political statement.  Grab a copy and have something to talk about at your next party.