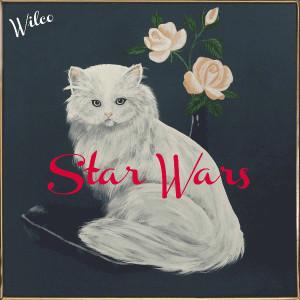 I know. I know. I know.  I'm late to the Wilco party.  But, their new album, Star Wars, is a rockin' masterpiece.  Known as audio chameleons, Wilco's offering is punchy and surprisingly straight forward.  That's not to say it is without its lovable quirks that place the album firmly in the alt rock category.
Perhaps my favorite thing about Star Wars is the mixing.  No muddled instruments, a common theme in recent pop music.  I know, I'm a snob.  Here, each guitar seems to occupy its own edge of the spectrum, resulting in a recording that actually sounds like a band.  Well done, Wilco.  Oh, and did I mention that it's FREE on iTunes and on the band's website, Wilcoworld.net?  What are you waiting for?  Go get your light saber.
*Husky Harlequin is the author of the new time travel novel Time's Alibi or The Quantum of Jazz Between the Sun and the Grave.  It's more than SciFi; it's a political statement.  Grab a copy and visit another dimension during your lunch break.