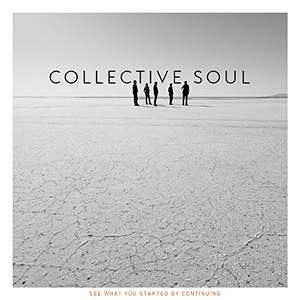 They snuck up on me.  Collective Soul has released three singles this summer from their upcoming release See What You Started By Continuing.
The first, "This," is a rocker with a catchy, chord based riff.  It is reminiscent of their older work and Ed Roland does a fine job getting the most out of his voice.  I am a big fan and it is a reminder to a world in love with American Idol, The Voice, and the like that a perfect singing voice is not required to front a great rock band if you have passion and write songs that compliment strengths and minimize weaknesses.  The "oooh-ooohs" remind me that the band is really a power pop outfit now, but I am okay with that reality in a post grunge age.  Newcomer, Jesse Tripplet's solo sears, invoking the band's glory days.
"AYTA (Are You the Answer)," the second single is more of a ballad and hooked me with the fancy picking during the chorus.  As it is often the case with Collective Soul, the song works as a love song, but even better as a spiritual hymn.  Thought provoking. Compare to classics like "Better Now," "No More, No Less," and breakthrough "Shine."
Blues is the name of the name of the game in "Hurricane," the most recent release.  The main riff is fun and a upbeat version of something I'd expect from Queens of the Stone Age.  Yet, it is heavy, both musically and lyrically.  I hope there are more moody tracks like this on fully album.
I'm grateful for new music from a band from my youth.  The full album is due out in October. Listen to the singles now:  https://itunes.apple.com/us/album/see-what-you-started-by-continuing/id1023916182
*Husky Harlequin is the author of the new time travel novel Time's Alibi or The Quantum of Jazz Between the Sun and the Grave.  It's more than SciFi; it's a political statement.  Grab a copy and visit another dimension during your lunch break.