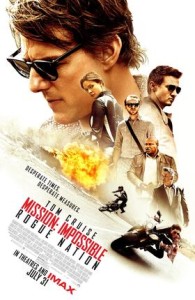 Ethan Hunt drops in for another round.  And like a prize fighter, he delivers plenty of punch.  But this time, it's not so easy.  Hunt is no longer in his prime (think recent James Bond).  He's vulnerable as his skill are repeatedly matched by the evil Syndicate.  As always, Cruise thrives in the underdog roll.  I'm not complaining!
There is no shortage of fun and special effects, but this mission is reminiscent of the mystery and mind games of Brian DePalma's more subtle first chapter of the franchise back in 1996.  To me, that is a good thing, as the audience is right next to Hunt trying to figure out friend/foe and who is really behind the Syndicate.
While the cargo plane scene was greatly hyped–rightfully so–it is the high speed motorcycle chase that stood out to me.  It was impossible to miss how real it feels.  My only gripe is that Jeremy Renner, who was introduced in MI4, was severely underutilized in this installment.  Don't wait for home video release, go see it now:  feel the breeze–in your hair.
*Husky Harlequin is the author of the new time travel novel Time's Alibi or The Quantum of Jazz Between the Sun and the Grave.  It's more than SciFi; it's a political statement.  Grab a copy and visit another dimension during your lunch break.