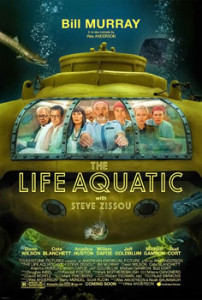 I am captivated by the Cecil the lion matter.  For those of you who do not know, he was killed by an American dentist seeking a hunting trophy a few weeks ago.  Like many, I had never heard of Cecil before his death, but I find myself thinking about my dog, Pepper, when I read about the lion.  I'm not saying that hunting for a trophy is wrong, but I don't understand it.  It makes me sad to think about loosing my dog someday in the future, even though he can be a colossal pain sometimes.  I wonder if that is how folks who knew Cecil feel?  I don't know.
I've been thinking about two movies that relate to the subject, at least in my own crazy mind.  The Life Aquatic with Steve Zissou is one of my all time favorites.  Many of my friends and family have not been able to appreciate this film when they have allowed me to screen it for them.  Bill Murray, as the title character, is absolute fantastic as the host of a ocean based nature show.  Yes, the movie is very silly.  But it is also insanely serious as Zissou is searching for the fish that killed his best friend in order to get revenge.  As Zissou loses himself, he finds himself, even if he can't put his finger on how he got lost in the first place.  Check it out and let me know what you think.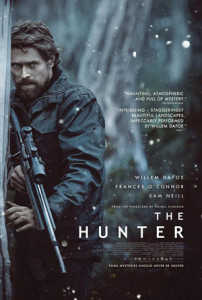 The Hunter with Wilem Defoe flew largely under the radar.  I watched it one night when I couldn't find anything else more enticing and it has been with me since.  It is haunting.  The story is believable, built around the Tazmanian Tiger, which is believed to be extinct for some time.  Defoe, the titular hunter, is hired to find and bring back a specimen when a lone animal is spotted in the wilderness.   It challenges the audience to a game of bioethics.  Can the Hunter, as wild as his prey, be taught by nature about what makes humanity so special?  .  Are Zissou and the Hunter different versions of the same man?  Tell me what you think.  I'll be back after spending some time with my buddy, Pepper.
*Husky Harlequin is the author of the new time travel novel Time's Alibi or The Quantum of Jazz Between the Sun and the Grave.  It's more than SciFi; it's a political statement.  Grab a copy and visit another dimension during your lunch break.