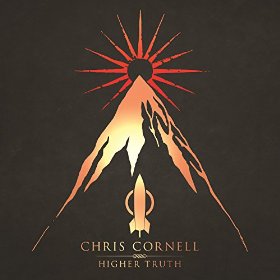 If I could sing like anyone, Chris Cornell would be at the top of my list.  He's always been one of my favorites, but since he stopped smoking in between the production of the first and second Audioslave albums, he's ascended to a new plateau.  He's always had range, but now there is a bucket full of soul splashed onto his vocal rainstorms.
Cornell is following up the successful release of Soundgarden's triumphant return, King Animal, with a new solo effort, Higher Truth.  The first single, "Nearly Forgot My Broken Heart," was recently released.  It opens with an eerie acoustic riff.  Is that a mandolin?  It reminds me a bit of the opening from Joan Osbourne's "St. Teresa" from back in the dark ages.  Cornell's voice has never been better, but I could have done without the distortion on the chorus.  The track pushes the envelope on being "over produced," but it is very catchy.  I've probably listened to it a million times all ready.  Lyrically, it is dark and thought provoking, everything I've come to expect from the crooner.  Pain and suffering often comes in cycles, often by our own repeated choices.  But maybe it is something we shouldn't attempt to avoid?  Interesting to think about…
The full set is due out in September.  It can't some soon enough.  For now, you can listen to the lead single and cry yourself to sleep:  https://itunes.apple.com/us/album/higher-truth/id1028592877
*Husky Harlequin is the author of the new time travel novel Time's Alibi or The Quantum of Jazz Between the Sun and the Grave.  It's more than SciFi; it's a political statement.  Grab a copy and visit another dimension during your lunch break.