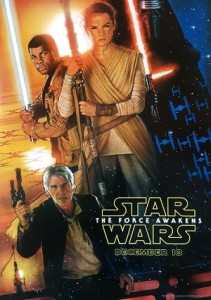 By now you have seen it.  The Star Wars Episode VII 13 second teaser trailer on instagram.  If you haven't, its embedded below.  Like any faithful fanboy, I dutifully spent an hour watching it over an over.  Here are some things I've been thinking about:
1. Is Finn, John Boyega's character, a stormtrooper, a Jedi Knight, both?  Could he be a Jedi that is merely incognito in the soldier's suit?  I got goosebumps seeing him with his blue lightsaber.
2.  Is Finn Luke Skywalker's new apprentice?
3. Is Rey (Daisey Ridley's character) the daughter of Han Solo and Princess Leia?  We are all assuming that they got married after Return of the Jedi, but we have been instructed that everything outside of Episode I-VI, The Clone Wars TV show, Star Wars Rebels TV show, and a few other very recent games and books are apocrypha now.  However, in the recently discarded "Expanded Universe," Han and Leia had twins…a boy and girl.
3.  Are Kylo Ren (Adam Driver's character) and Rey (Daisey Ridley's character) siblings and the children of Han and Leia?  Ren's apparent obsession with Darth Vader makes more sense to me in this context.
4.  Is it possible that Luke Skywalker has turned to the dark side of the force?  Could he be a Sith Master now?
5. Gwendoline Christie of Game of Thrones fame is playing the stormtrooper, Captain Phasma.  She's got to have a lightsaber, too.  Right?
6.  What happened to Ahoska Tano, Anakin's padawan from The Clone Wars series.  She is out there somewhere.  A Jedi.  Ready for action.
7. Harrison Ford famously infamously wanted Han Solo to die a heroic death in Return of the Jedi.  I hope this wasn't a condition of his return to the franchise!
Is it December 18th yet?
*Husky Harlequin is the author of the new time travel novel Time's Alibi or The Quantum of Jazz Between the Sun and the Grave.  It's more than SciFi; it's a political statement.  Grab a copy and visit another dimension during your lunch break.